On Sunday, November 16th, Austin Film Society welcomed acclaimed costume designer Michael Wilkinson for an Artist Spotlight event at The Harry Ransom Center in Austin, Texas. The evening featured a beautiful reception, with a chance to chat with Michael, as well as view costumes and never before released costume illustrations. The feature of the night was a conversation with Wilkinson about his wonderfully complex and jet-propelled career, moderated by "Ms. Costume 411" herself, the brilliant Bobi Garland.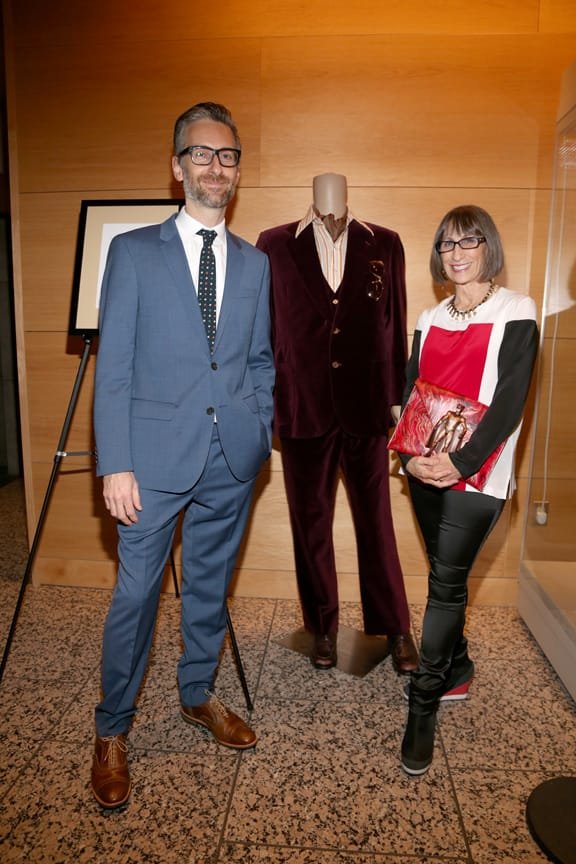 Michael Wilkinson and Bobi Garland, Artist Spotlight, Harry Ransom Center.
Michael first caught the broad attention of the costume design and entertainment community in 2006 with his designs for the Zack Snyder directed film 300.  Wilkinson took the graphic novel source material, combined it with elements of historic authenticity and a near operatic scale to make it a feast for the eyes, appealing to a much wider audience. He followed up that success with the masterful costumes of Watchmen, moving seamlessly from the 1940s to 1980s with period costumes that grounded the superhero genre in a new way, and high-tech sculptural suits that added complex dimension to the art of the super-suit.
300, costume designer Michael Wilkinson.
Watchmen, costume designer Michael Wilkinson.
With a track record like that, Wilkinson was tasked with designing the costumes for other stylized futuristic and comic book favorites such as Terminator Salvation, Jonah Hex and Sucker Punch. But it was 2010's TRON: Legacy that really solidified Wilkinson's place as a leader and innovator. The light suits of TRON: Legacy integrated sculpted suits and interior practical lighting in a way that no film had done before, and to remarkable effect. Instead of relying on CGI and postproduction effects, the glowing suits helped ground the film and the actors' movement with a sense of reality in an otherwise fantastical world.
Tron: Legacy, costume designer Michael Wilkinson.
Tron: Legacy, costume designer Michael Wilkinson.
But it was the 2013 releases of Man of Steel and American Hustle that brought acknowledgment of Wilkinson's design dexterity to a mass market, being featured prominently in Entertainment Weekly, Elle, In Style, and GQ among others. This spectacular year of films saw Michael expertly move from dramatically redesigning one of the most iconic characters in Western culture, to inspiring todays fashion trends through jaw-dropping vintage styles, dressing two of the most beautiful and talented women in Hollywood. Wilkinson advanced the development of complex, otherworldly costumes through a process that included body scanning, digital sculpting, layers of custom printed fabrics, and 3D printing only to turn around and flawlessly recreate the world of the 1970s, complete with flirty wrap dresses and delicate, yet daring, hope-the-wind-doesn't-pick-up blouses. This ability to not only design in multiple genres, but to truly excel in each has made him one of the most sought after designers in the industry. It also didn't hurt to pick up an Academy Award nomination along the way.
Man of Steel, costume designer Michael Wilkinson.
American Hustle, costume designer Michael Wilkinson.
His work on this year's Noah highlighted his expertise and vision in leading a team of highly accomplished artisans, pushing them to advance their own craft. This time it came in the way of absolutely stunning textiles, created in collaboration with textile artist Matt Reitsma. From layered, bonded fabrics, to garments knit with plastic straws and cassette tapes, Wilkinson created never before seen textiles, perfect for an ancient world meets post-apocalyptic tale of Biblical proportions.
Noah, costume designer Michael WIlkinson.
Never before released costume illustrations for Noah, costume designer Michael Wilkinson.
Never before released costume illustrations for Noah, costume designer Michael Wilkinson.
Austin Film Society's event came at the perfect time, as Wilkinson's star is poised to shoot further and faster than ever before. Already 130 days into a 140 day shoot for the highly anticipated Batman v Superman, this event found Michael just after a two week shoot in Chicago and on his way to costuming 60 extras in New Mexico for one of the many scenes set in various international locations, in a film that includes over 10,000 extras, 250 speaking roles, and represents 18 months of design time. Not one for slowing down- after wrapping, Wilkinson will jump immediately into Joy, collaborating again with director David O. Russel.
Batman v. Superman, costume designer Michael Wilkinson.
While his designs for a wide array of characters and genres have him actively advancing the field, it is his branding and merchandising partnerships that may leave the biggest mark on the future of costume design. Wilkinson joins a prestigious group of costume designers whose work has inspired creative collaborations with major brands; designers like Trish Summerville (H&M), Lyn Paolo (The Limited), and Janie Bryant (Brooks Brothers, Banana Republic), et al. – not to mention a long history of designers such as Bernard Newman (Bergdorf Goodman), Adrian (Macy's), and Edith Head (Vogue Pattern Company) whose fashion partnerships dressed the women of America from the 1930s to '70s. Currently in talks with high-end designer brands, such as Prada and Gucci, about potential future collaborations, Wilkinson is poised to enhance costume designers' identity as global fashion leaders.
A huge thank you to Michael Wilkinson, Bobi Garland, The Harry Ransom Center, and Austin Film Society for a truly wonderful evening. Check out more of Michael's work at Michael Wilkinson Design and find out about upcoming events at The Harry Ransom Center and Austin Film Society.