Gregg Barnes is a Tony Award winning costume designer, best known for incredible Broadway designs that range from Legally Blonde to Follies, and Kinky Boots. He has been working on his latest show, Disney's Aladdin on Broadway, throughout its evolution over the last three years. Gregg opens up about his career in costume design and the exciting process of bringing this much beloved cartoon to the stage!
Adam Jacobs as Aladdin. Disney's Aladdin on Broadway.
Tyranny of Style: Can you begin by telling us a little bit about your education and background in costume design?  
Gregg Barnes: "I was an undergraduate student at San Diego State University majoring in dramatic literature and happened to take a Costume History course to fulfill a humanities requirement. The class was set up to design characters from classic texts (THE SCHOOL FOR SCANDAL for example) as we studied each period.  It wasn't design as I've come to think of it, but was an exercise in matching period paintings and portraiture to classic plays.  I was in my senior year and design was the furthest thing from my mind but the professor suggested that I sit and talk with the designer Robert Morgan who was in town working at the Old Globe Theater.  He was a visiting professional who was interviewing the SDSU Master's Candidates in costume design.  Bob saw something in me that even to this day amazes me, and he inspired me to go to NYU and study costume design.  I finished up my credential over the next year and a half and began to prepare to interview for the NYU Master's program in Costume Design.  I was 20 years old and completely unskilled…I had never drawn or sat down at a sewing machine but I had a background in play analysis through my studies in dramatic literature.  NYU accepted me and I moved to New York in 1980.  In the year and a half before moving to New York I designed every thing I could get my hands on.  Grossmont Junior College hired me to design a number of plays and musicals for them.  It was trial by fire once I got to New York but my experience at NYU was crucial in my development.
Courtney Reed as Jasmin. Disney's Aladdin on Broadway.
NYU is an amazing program with a brilliant faculty and New York City as your playground.  When I graduated in 1983 I was hired by the undergraduate theater program at NYU to run their costume department, getting the student productions on their feet and eventually teaching design.  It was an incredible blessing in those early years to have a shop at my disposal and a steady income doing what I loved. I stayed there until 2002 so it was close to being a 20-year chapter in my life.  While I was doing that I designed everything that came my way and the jobs got bigger and the budgets trickier to manage. It was a real juggling act. I remember when I got out of school thinking I would give it 5 years and if I wasn't working on Broadway I would go back to San Diego and teach.  The arrogance of youth!  It took 15 years to land my first Broadway Show and another 6 years to land my second. I've learned that the process of maturing as an artist working in the theater isn't to be rushed. Things happen as they are meant to and try to enjoy each step of the process."
James Monroe Iglehart as Genie. Disney's Aladdin on Broadway. (Cylla von Tiedemann)
T/S: This production of Aladdin has had a bit of a life even before its Toronto try-out or move to Broadway. Can you tell us how much of that early development you were apart of?
GB: "I have been involved with ALADDIN since they pushed the green light some years ago.  Before there was a director Disney held a reading at the rehearsal studios on 42nd Street and I happened to be doing some fittings for ELF the Broadway Musical on the same floor.   As we were doing our fittings we could hear the laughter and excitement coming from the Disney room and I remember thinking that if the project moved forward that whoever was chosen to design the costumes would have a field day. I never imagined that it would be me! Disney hired Casey Nicholaw to direct and choreograph, and he brought me onboard.  Casey also directed ELF and the DROWSY CHAPERONE and we have known each other (from San Diego) since 1978.
Disney's Aladdin on Broadway. (Cylla von Tiedemann)
 I designed the Seattle production of ALADDIN, which was a try-out of sorts. It was a fully realized production and the Seattle shop did an amazing job on the costumes but it was understood from the beginning that the Broadway design would be different. Time, money and a million other considerations went into exactly how to approach the trial production. Seattle was crucial in discovering how the story might unfold and exactly where the problems were and so we designed the evening to be "light on it's feet" to serve the continuous changes that are inherent in developing a new musical. The budget was generous but certainly not a Broadway budget. I spent two months in Seattle working with their shop and we had some things made in New York as well. It was quite an undertaking and had an enormous effect on what the audience will experience with the show once it opens on Broadway."
Disney's Aladdin on Broadway. (Cylla von Tiedemann)
T/S: You have quite a fascinating Pinterest account with board after board of incredible historic clothing research. Your Aladdin board particularly features an exciting array of inspiration. Can you tell us about the research process for Aladdin?
GB: "I love the research phase and the early part of the design process.  I think of it as the foundation of the design.  Casey sat down with me after the Seattle production and we explored all of the lessons that were gained from that experience. He had a couple of insights that immediately clicked.  We are close in age and both grew up in San Diego so we share a common set of pop-culture references.   He imagined all of the scenes that are set in the Palace as being inspired by the final moments of the "It's A Small World" ride at Disneyland.  Glistening and pale and sugarcoated.  To contrast the palace in the market place scenes he wanted to honor the spirit of the animation where the characters are color-blocked and stand out from the backgrounds.  He imagined a world that was not just colorful but actually glowed.
Costume research from Gregg Barne's Aladdin Pinterest Board. Disney's Aladdin on Broadway.
Bob Crowley came on board as Set Designer and I followed his lead when determining the palate of the marketplace.  He has these gorgeous orange dunes so we used a lot of blues and greens and cool colors to stand out from the set.  Bob gave us a paint sample of the proscenium and the dunes and we very carefully chose all of our colors with that paint swatch. The clothes in the marketplace are all hand painted by the miracle workers at Parsons Meares costume shop in New York. My Pinterest images reflect the wide array of sources that I've tried to incorporate in the finished costumes.
Costume research from Gregg Barne's Aladdin Pinterest Board. Disney's Aladdin on Broadway.
The script of ALADDIN is somewhat inspired by the film which has a lot of anachronistic references. The design is a bit irreverent in a way. Some of the things we looked at:
Belly Dancers (of course)
Dancing with the Stars
Roxy Ushers
Tilke research of ancient Middle Eastern garments
The Cotton Club (believe it or not)
Hollywood Kitsch and MGM musicals
Modern wedding dresses
Tattoo art
Exotic visions conjured by Bakst, Antonio (fashion illustrator), the Victorian     Orientalists, etc.
Islamic architecture
Jewelry (both ethnic and Cartier)
Carved wood blocks
Calligraphy
All of these things and many more are then used to inspire the shapes and the palette of the finished design. The story of ALADDIN is set in the city of Agrabah, which is a fictional place.  ALADDIN is a fable and by mix-mastering all of these images and inspirations we hopefully end up with a design vision that is unique to the particular telling of this wonderful story."
Aladdin costume rendering by Gregg Barnes. Disney's Aladdin on Broadway.
T/S: You consistently turn out some of the most stunning costume renderings in the business. Could you talk us through the practical steps of executing your renderings?
GB: "Well, first of all, thank you for the compliment. I do take the sketching part of the job very seriously.  You answer so many questions while sitting at the drawing table and it helps me keep my head clear once the build begins.
STEP ONE.  I always create a background for the sketches.  I spray a series of watercolor dyes on my chosen paper to emulate the kind of environment that the clothes will eventually be seen in front of. I don't sit down and start drawing until I have a very good sense of where I want to go with the design. I'm not a "doodler". I find that the process of preparing the paper signals that a new design adventure is beginning and it gets me thinking.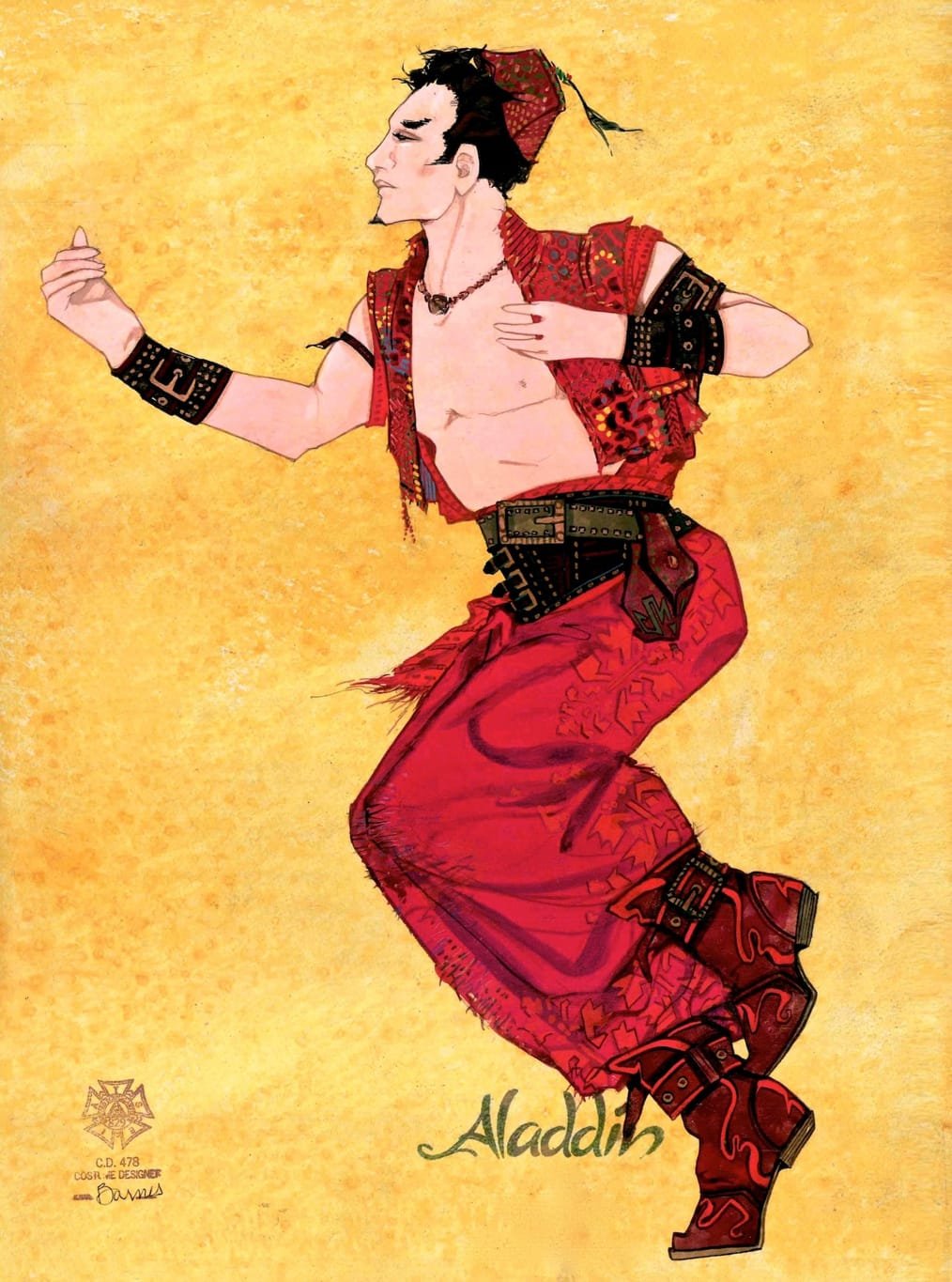 Kasim costume rendering by Gregg Barnes. Disney's Aladdin on Broadway.
STEP TWO:  I draw the characters out on vellum and develop the shape and details. I always work 16 ½" X 22 ½". I have a series of poses that I've worked out over the past 30 years (!) and I constantly reuse them. I learned early on that I love the painting part of the process and dread the drawing so I found a way to get to the gouache as fast as possible.  For every show I develop a few more poses to add to my repertoire. I share these drawn sketches with the director to make sure we are on the same page before moving into color.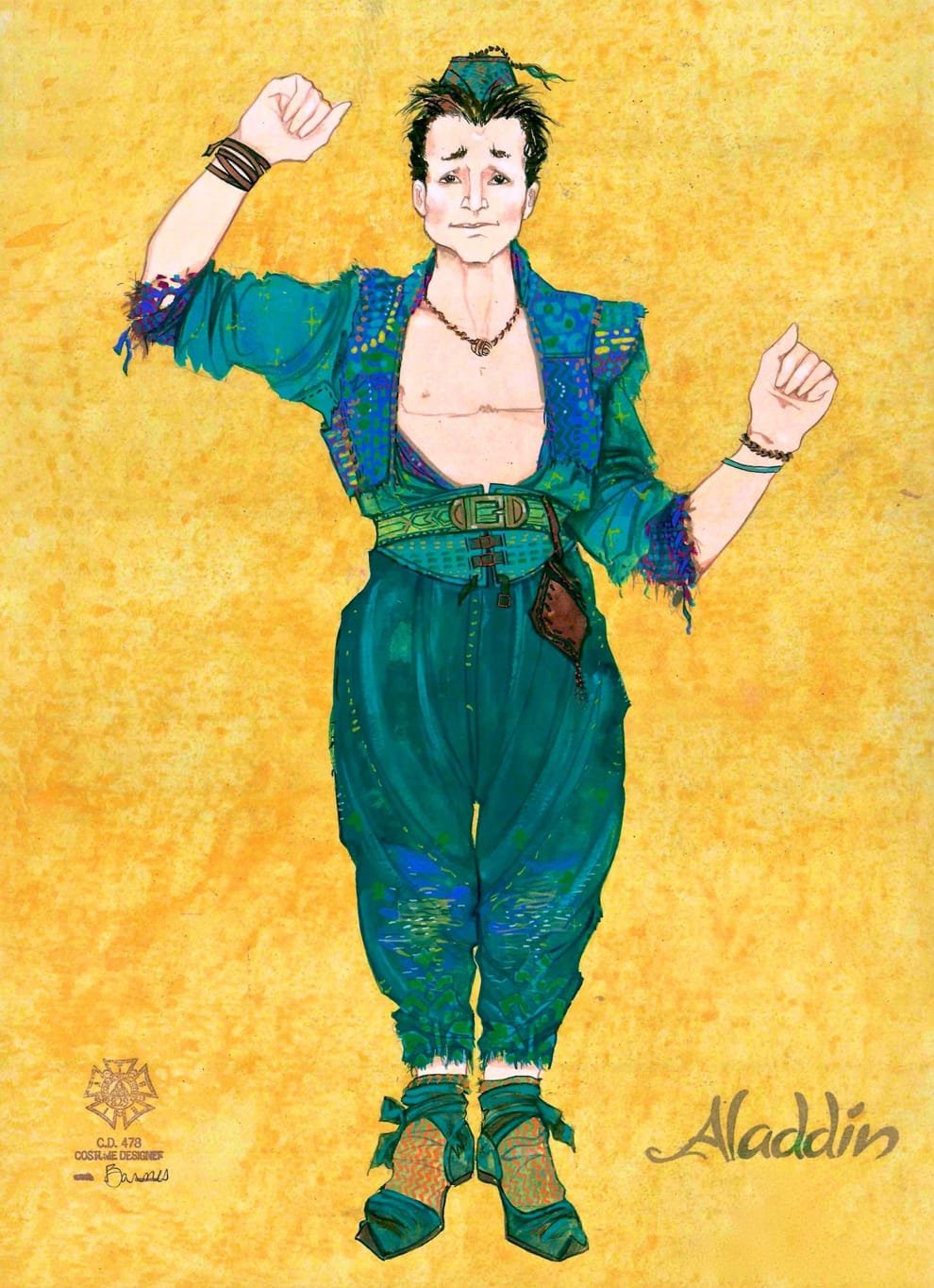 Omar costume rendering by Gregg Barnes. Disney's Aladdin on Broadway.
STEP THREE: Paint!  Hallelujah.  I use gouache pretty much exclusively.  I block out the color and "draw" the details after the big blocks of color are established. I use anything at this stage that is quick to speed things along.  Calligraphic markers, puff paint, ink-stamps, glitter, sequins you name it. It takes me AT LEAST 3 hours to do a sketch so if you have 150 sketches to do…well you can do the math. I know this process isn't for everyone but it gives me confidence in where I'm going and saves stress on the other end by feeling confident once the shops take the sketches and the questions begin.  I should add…for all of the energy that I put into the sketches I always try to be open in the fitting to the actor's input and the work done by the dressmakers. The sketch is the starting point but ultimately I want the actor to think of what we have developed together as the clothes that his or her character owns."
Babkak costume rendering by Gregg Barnes. Disney's Aladdin on Broadway.
T/S: That is so fascinating! Can you explain a little more about how you transfer your sketch from vellum to the treated paper?
GB: "When I transfer the drawing that is on vellum to the paper with the dyed background I simply use a light box and trace the image.  I only do the big shapes (I don't transfer the facial features for example), as the details will be lost once the base layer of gouache is applied.  I use the paint quite densely.  I then block in the skin tones and try and get the entire sketch blocked in color before focusing on any details.  I shade the thing a bit at this stage as well.  After that is dry (I always work on 2 or 3 sketches at the same time so if I'm doing the flesh tones I can keep things moving using the same part of my paint palette) I begin to lay in the details.  Sometimes I use blue transfer paper to lay facial features on the base painted sketch.  I then use all different shapes and sizes of brushes I have acquired over the years to flesh things out.
Female Marketplace costume rendering by Gregg Barnes. Disney's Aladdin on Broadway.
I have a large number of rubber stamps that I use for patterns (I put the gouache right on them or use ink pads), chisel edged calligraphy markers, puff-paint…whatever keeps things moving and fleshes out the details.  This probably sounds insane and time consuming, but after 34 years of sitting at a drawing table it actually moves very quickly.  After I have all of that down I usually take a large brush and some murky shadow colors and wash low lights over the large fabric sections to give depth.  I find if I do this at the end of the process instead of earlier that it gives the sketch movement and blurs some of the hard edges.  On a side note at the end of every project (in my copious spare time) I gather all of the sketches and organize them to be filed away.  I go over everything one more time and finesse them so that if a bus hits me I won't be ashamed of what I've left behind!  It is interesting to look at something many months after you have painted it (sometimes years later) and to see where you have succeeded and where you failed.  I find it very instructive and try to learn from each project so that I don't keep making the same mistakes!"
Female Marketplace costume rendering by Gregg Barnes. Disney's Aladdin on Broadway.
T/S: Can you tell us a bit about the build process for Aladdin?
GB: "It has taken over 32 shops to create the clothes for ALADDIN if you count the dressmakers, cobblers, milliners, painters, beaders, and jewelers.  I'm probably leaving someone out!  We had shoes made in Canada, New York and Italy, beading done in India (also New York and Los Angeles), Clothes made in New York and Canada.  The fabrics are sourced from probably every country you can think of…including Morocco, France, India, China, Japan and beyond. It has been an epic undertaking. It's funny that you ask about new technology. I am old fashioned I imagine and try to think of new ways of using old technology.  Certainly we have laser cut leather, custom silicone dimensional motifs and sublimated dye work that is designed to the pattern piece before printing but in general I have to say I am still enamored of old-world crafts and the amazing effects that can be obtained from them.
Beading process details. Disney's Aladdin on Broadway.
I must say that all of the artisans that have worked on the clothes are extraordinary.  Most of them I have worked with for the past 30 years and I think of them as family. In many ways they are the unsung heroes of our industry.  I have benefitted from the broad range of their experience and their passion to create beautiful things.  Designers are only as good as the brilliant people that make the clothes.  ALADDIN has been a study in the complicated process of shops collaborating with each other.  Once the patterns are established the fabric is sent away to be painted or beaded (often both) and the timeline of all of that getting back into the hands of the dressmakers to be finished is daunting."
Beading detail, Prince Ali doublet. Disney's Aladdin on Broadway.
T/S: Wonderful. Can you expand on some of the new technology you mentioned?
"Silicone dimensional details.  Rodney Gordon brought this to the table.  There are a series of Palace Guard costumes that use this technique. The details are sculpted in oil-based clay and then casts are made of the shapes.  The silicone has color added before pouring and the molds are filled.  Before they are completely set a fine mesh is embedded in the silicone.  After they are taken from the molds and cleaned up the mesh is trimmed to a ¼" and that is what is stitched to the base fabric of the costumes. Rodney made (what look like) nail-heads for belts, dimensional harness appliques with embedded jewels and elaborate snakehead shoulder pieces.  The silicone surface is enhanced with additional paint and bronzing powders. I'm sure I'm leaving out some of the process here but that is generally what I observed them doing step by step.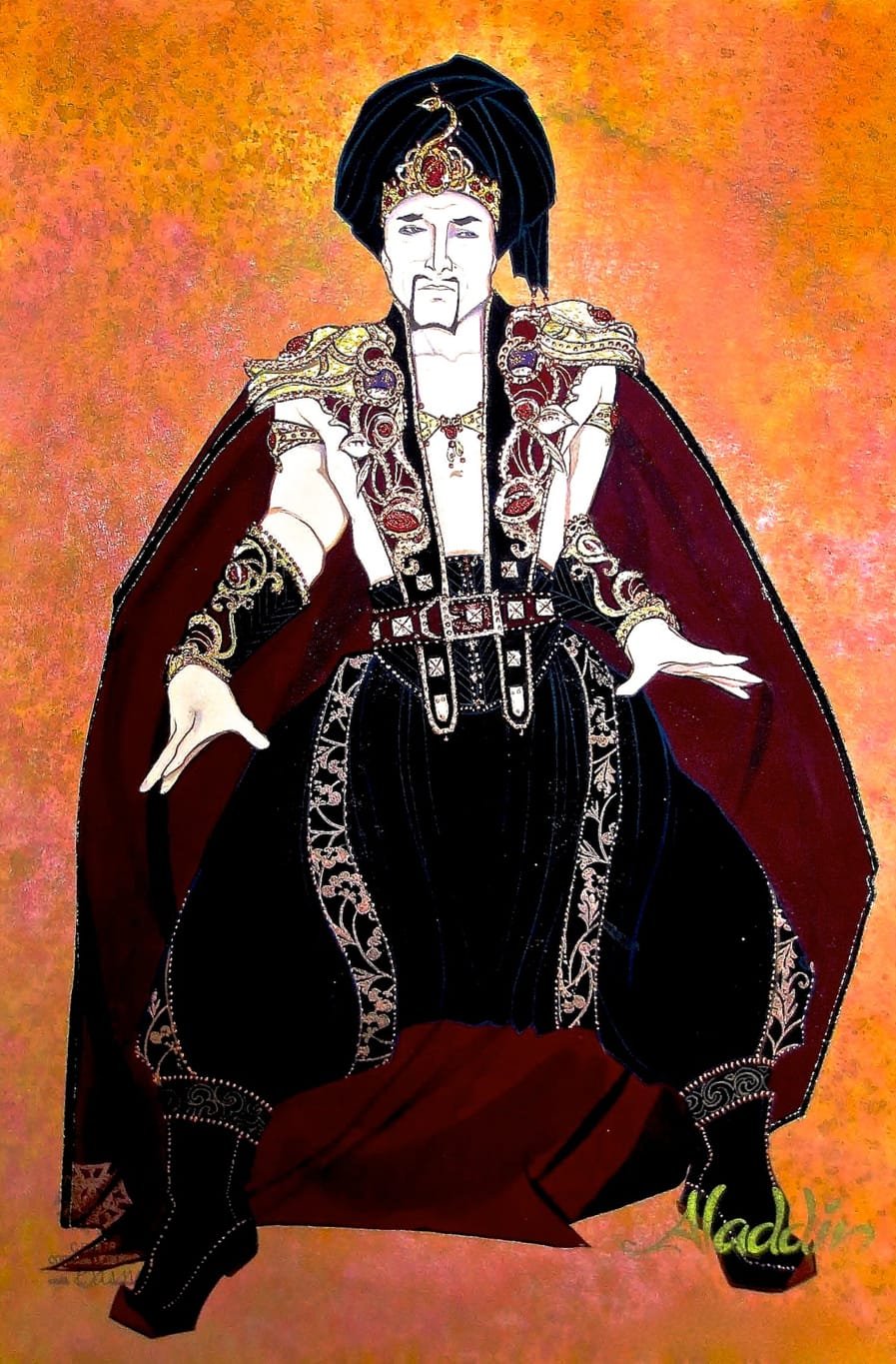 Palace Guard costume rendering by Gregg Barnes. Disney's Aladdin on Broadway.
Laser cut leather details.  Eric Winterling brought this to the table.  We have a series of costumes worn in the "PRINCE ALI" parade that have appliqued metallic motifs. We had already (on other costumes in the number) used brocades and machine embroidery so Eric suggested this technique to add variety.   I believe it was relatively simple.  The artwork that Eric developed from my sketch was given to a company that laser cuts things and we provided them with a lightweight kid (we used Shrut and Ashe which is a go-to source for custom shoes) and the appliques came back with beautiful detail.  They are then straight-stitched right onto the base fabric.
Harem Girl costume rendering by Gregg Barnes. Disney's Aladdin on Broadway.
Sublimated Dye work.  We have a set of Harem Pants that were made at Tricorne costume shop here in New York. They are slit from the waistband down to a fitted cuff and are part of a number with a lot of quick changes, which inevitably means a lot of wear and tear.  We had Jeff Fender (who hand painted a lot of the rest of the show) work out the graphic on white paper.  The artwork has a rolling smoke motif that turns into flames as the pattern moves up to the waist.  There also is a border, which is printed along both sides of the slit, which goes up and down the entire panel.  All of this is drawn to the specific pattern shapes developed by Tricorne. There is a bit or over-run on each panel so that they can be sized.  This artwork was then given to Gene Mignola who scanned the patterns, did all the color work (there are at least 6 colors on each panel) and then printed the silk. Gene also worked out two different color ways so that there is variety in the set.  After the panels are printed the folks at Tricorne finished them up and added the hand-sewn jewels and hot-fix stones to the borders. Now we can reorder the goods for swings and replacements.  It is quite a process and we would love to have done it with more costumes.
Harem pant digital print pattern. Disney's Aladdin on Broadway.
I will add that it takes more than a village to make all of this happen. It includes so many people and there are so many steps. All of that must be kept in mind when working out the calendar. My assistants did most of the upfront legwork and the shops then take it from there. We are hopeful that if the show is successful and that we have multi-companies that this technology will be easy to reproduce in the future."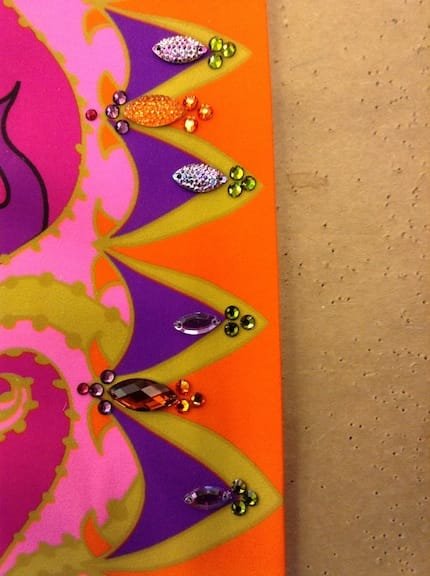 Harem pant embellishment. Disney's Aladdin on Broadway.
T/S: Can you tell us a bit more about fabric sourcing from across the globe?
GB: "This isn't that difficult in New York City where there is so much available. In many ways (other than B&J and Mood and all the usual suspects…which are amazing) we shopped in established ethnic neighborhoods.  Jackson Heights for Indian goods, Chinatown for dynasty brocades, etc. The decorator building on the Upper East Side was also hugely helpful.  In a single building on multiple floors are goods from France, Venice, Italy, Japan- you name it.  The fabrics tend to be costly but you avoid additional embellishment expenses if the fabric tells the story.  I happened to be in Morocco early last year and picked up some trims and tassels and shoe samples which came in handy."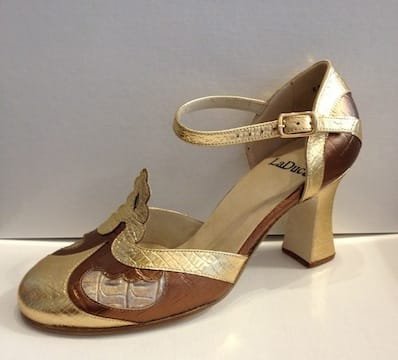 Female ensemble custom shoe. Disney's Aladdin on Broadway.
T/S: What, if any, changes did you make to the costumes during the Toronto run?
GB: "In Toronto our costume changes were pretty minimal. We had our work cut out for us getting the backstage to run smoothly.  There is a parade that opens Act 2 in which 19 actors change 4 times each in a 3 ½ minute number…it is a triumph that Rick Kelly our Wardrobe Supervisor got that to happen so gracefully.  Applause for Eric Winterling and his shop that made the clothes which all have to be fit on top of each other without making everyone looking like a stuffed sofa. We were in Canada for around 7 weeks and worked long days smoothing out the inevitable glitches and finishing up details that we felt needed polishing up.  We are just now in the transition phase between the out of town in Toronto and the opening in New York.  It is amazing how few things (for us) are being tweaked or changed. We've added a costume for the Genie and some showgirl backpacks but most of our work right now is getting things finessed for New York.  The details are endless!"
Showgirl backpack design. Disney's Aladdin on Broadway.
T/S: What is the most satisfying moment in the process for you as a costume designer in general and as it relates specifically to Aladdin?
GB: "I love every phase of the design process. I'm passionate about the research, the collaboration, the drawing, the fabric, my assistants, the shops, the actor's, and the crew backstage.  Given all of that I have to say that the most satisfying moment is usually the opening night when the many people who have worked so hard to bring the story to life surround you.  ALADDIN will have been a major part of my life by the time it opens on Broadway, almost three years.  I couldn't wish for a more exciting project to have been a part of."
Disney's Aladdin on Broadway.
 Thank you to Gregg for his wonderful contribution. If you're in New York, or plan to visit soon, get your tickets now! Preview begin February 26th. Disney's Aladdin on Broadway opens March 20, 2014! For more information, visit AladdinTheMusical.com!