Los Angeles County Museum of Art (LACMA) recently gave its Costume Council members, as well as the general public, a great opportunity to attend a discussion with Oscar-nominated costume designer Michael Wilkinson, hosted by Western Costume's Director of the Research Library and Costume Archive, Bobi Garland. While the evening focused largely on Wilkinson's work for the most recent Superman film, Man of Steel, it also provided some wonderful insight into Michael's overall design process and philosophy.
Superman- Costuming an Icon. Michael Wilkinson and Bobi Garland. (Photo credit: 2014 Museum Associates | LACMA)
The event kicked off with a glance at Michael's career. Fresh off an exciting Oscar weekend, he talked about his beginnings in Sydney, Australia, where he attended NIDA (National Institute of Dramatic Art) and gained a great appreciation for the collaborative process of theatre and film costume design. Michael explained how important he feels it is to embrace collaboration as a designer and open yourself to the generosity of others' creativity. He also spoke warmly of his experiences with American Hustle (which earned him the Oscar nod). The film and its complex characters challenged him to think more deeply than ever before about costume, and he called his process with the director David O. Russell, the actors, and his design team, very "special times." And on a fun note, Michael also hinted that he may or may not be involved in bringing a Hustle-inspired fashion line to the public.
Superman- Costuming an Icon. Man of Steel suit. (Photo credit: 2014 Museum Associates | LACMA)
One of the central themes of the evening was the importance of new technology and innovation in costume design. Michael has worked on some of the more visionary films for design in recent years, from 300, which fused minimalism with Michael's operatic roots in Sydney, to Watchmen and Jonah Hex. Michael mentioned that perhaps one of the greatest leaps forward in design technology came with his work on Tron Legacy, where he and co-designer Christine Bieselin Clark could truly follow their passions for finding new ways of constructing costumes. For that film, lighting was built into the costume pieces, complete with battery packs and wiring. He then touched briefly on his upcoming projects, including the soon-to-be-released Noah, and his fifth collaboration with director Zack Snyder, the upcoming Batman vs. Superman. (Everyone there was hoping for a little scoop about the new designs for Batman and especially Wonder Woman, but as the consummate professional- Michael stayed mum on that subject.)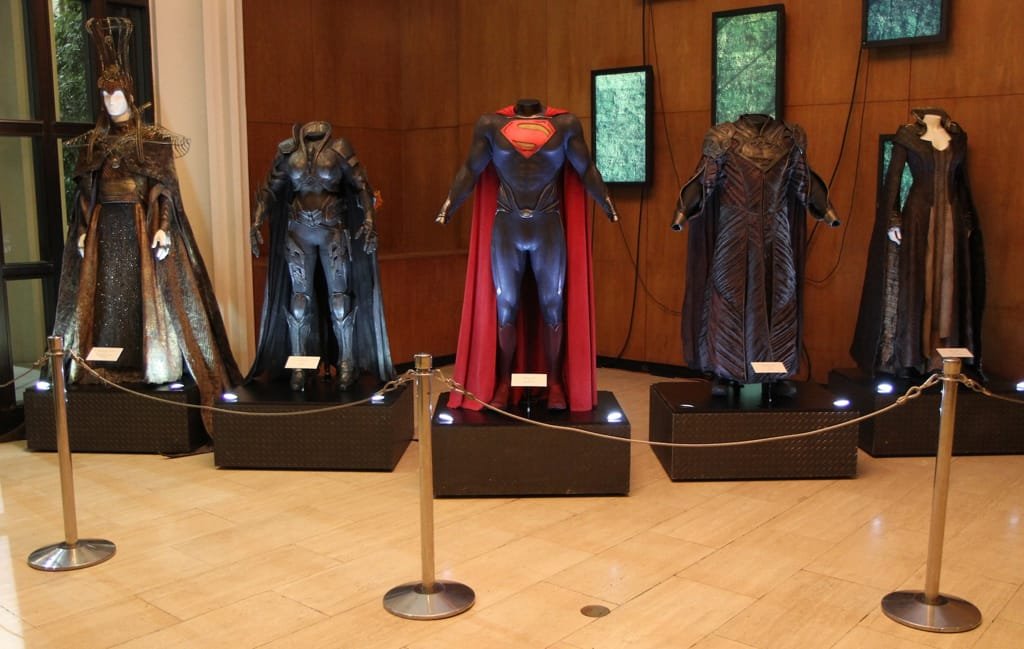 Superman- Costuming an Icon. Man of Steel costume display. (Photo credit: 2014 Museum Associates | LACMA)
Bobi and Michael discussed how important costume design is at the moment. Designers are becoming the pioneers of 21st Century art, and have almost more influence on fabric-related technology than NASA. There is a continual need to find new uses for fabric and even invent new materials. Michael strengthened this point, stressing that costumes need to move with the actors, in addition to being seen 360 degrees, on huge screens. With the popularity of sci-fi and fantasy films, the costumes also have an important historical and fan-based context. When bringing iconic characters like Superman to life, designers have a big responsibility, because these characters are important to so many people and stand for so much to them.
Michael shared the fascinating process of creating the Superman suit for Man of Steel. He collaborated with fellow designer James Acheson on the suit, and dedicated the evening's discussion to him, since he was working on another project in New Zealand. The pair started their work by researching Superman's 75-year history. Michael pointed out the interesting evolution of the superhero's look, as decade-by-decade, the suit has had its own historical context, from the inspiration of strongmen in the 1930s to the more relaxed and "relatable" '80s and '90s aesthetic. The one thing that hadn't really been addressed before was why the suit looks the way it does, and so in Man of Steel they set out to establish a strong connection between Superman and his birthplace, Krypton. They drew inspiration from everything from medieval chainmail to beetle wings.
Man of Steel concept art. Costume designer Michael Wilkinson. Illustrator Warren Manser.
Michael stressed the importance of illustration in the early stages of the process. He worked with "the most outlandishly talented illustrators" whose work is crucial in helping to pitch ideas to the studios and producers. Digital technology helps create a full picture of the end result. Through Photoshop and illustration programs they were able to incorporate the actors' features and elements like chainmail texture, and even the possibility of CG costume elements.
Superman- Costuming an Icon. Michael Wilkinson and Bobi Garland (Photo credit: Brianne Gillen)
Once the final design was approved, the construction process began – and what a process it was! The team started with 3-D clay models, and then moved on to full digital body scans of actor Henry Cavill, which were used to create a "chromed muscle suit" as a base for the costume. Michael pointed out that a lot of muscle definition is lost with leotards, and so they had to build it back into the suit to make sure Superman looked strong. Collaborator Eddie Yang used sophisticated design software to insert perfectly symmetrical, "alien" details into the suit. His work was then sent to a 3-D printer, and the resulting molds were used to create the eighteen duplicate suits for the film, with more pliable, movable fabrics.
Superman- Costuming an Icon. Michael Wilkinson and Bobi Garland (Photo credit: Brianne Gillen)
Every element of the suit had enormous detailing and texture. The chainmail-like fabric involved layering screenprints on top of thin mesh. Since Superman can fly, the soles of his boots would be visible to the audience at times, and so Michael and his team even gave them a textured pattern.
Superman- Costuming an Icon. Council member costume. (Photo credit: Brianne Gillen)
As important and fascinating as new technology was in Man of Steel, Michael also pointed out the equal importance of more "old-school" methods of design that were used in the film. While computers made impossible design elements possible, Michael said there is still nothing like putting the costume on an actual human body to see how it moves. In addition, many of the Kryptonian elders and Council members wore costumes that used more traditional design elements. Many of their fabrics were custom-made, and included etched velvet and hand-painting. Their crowns and jewelry involved some beautiful and elaborate metal work. Several costumes from the film were on display in the lobby, and the detail was awe-inspiring when viewed up close. The overall look of the movie was a feast for the eyes, and the fusion of past and future made for a truly stunning design.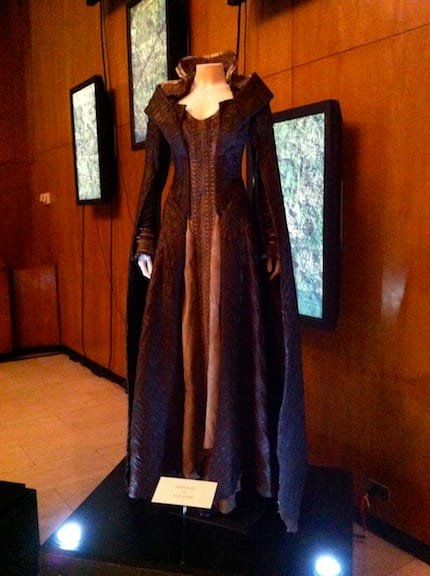 Superman- Costuming an Icon. Lara Lor-Van costume. (Photo credit: Brianne Gillen)
The conversation concluded with a few questions from students, and some wonderful insight from Michael about his design philosophy. One of his role models is Italian designer Piero Tosi, who really captures the emotional range of the characters in his designs. Tosi brings a "humanity, empathy, and imagination" to his design, and it is clear to anyone tracking Michael's career that he has the same gift. He finished the evening's conversation on an inspiring note, by talking about the heart of design as he sees it. No matter the time period or setting, the work of the costume designer is to tell audiences who a character is by using the elements of silhouette, color, texture, fabric, and drape – to essentially "tell stories using clothes."

Superman- Costuming an Icon. Faora-Ul costume. (Photo credit: Brianne Gillen)
The evening was a wonderful celebration of costume design, and Michael Wilkinson's many various films are definitely recommended watching. Thank you to LACMA, its Costume Council, and Bobi Garland for hosting the conversation.
By Brianne Gillen. Brianne is a Los Angeles based costume designer. www.GownsBy.net
Read more on Bobi Garland, Director of the Research Library and Costume Archive, Western Costume Company:
Read more on the changes made to the Superman suit for Man of Steel: