The Blacklist, the new crime drama that pairs one of the FBI's most wanted criminals with a rookie special agent to solve high-profile cases, has been one of the runaway hits of the Fall. This unique show has been keeping audience coming back week after week for a strong core of complex characters with fascinating stories that run up against a slew of domestic and international terrorists. The woman at the helm of dressing this remarkable range of characters is costume designer Christine Bean. I recently had the opportunity to ask her about her work on The Blacklist.
The Blacklist, Costume Designer Christine Bean
Tyranny of Style: Can you give us a brief description of your background in costume design?
Christine Bean: "I moved to LA to study Fashion Design at The Fashion Institute of Design and Merchandising.  While working on my degree I had a series of internships in both fashion and film. It became clear to me that, like many people who move to Los Angeles, I was being drawn into the world of show business. After I graduated from FIDM I spent some time designing and assisting on low budget and student films, which led me to Western Costume where I learned a tremendous amount about period clothing and earned my union status. Following Western I worked in just about every role in the costume department. From set costumer to shopper I worked in LA for 10 years before moving to NYC, where I have been for the past 3 years. Through the years I costume designed several indie movies and assistant designed on big budget projects like The Dark Knight Rises and most recently Smash for NBC."
T/S: The costumes for the Pilot of Blacklist were designed by Amy Westcott, can you speak a little to how you became involved with the show?
CB: "While finishing Season 2 of Smash I got a call from Amy Westcott regarding the pilot for The Blacklist. She was looking for an assistant designer and I came recommended from costume friends of hers. I was a huge fan of Amy's work and had wanted to work with her in LA but our paths had never crossed. I was thrilled to be able to have an opportunity to work with her in NYC. Amy and I had a seamless work style and a similar aesthetic, so although we had never worked together before, it felt very natural.
With Pilots, I think most designers think of taking them on as they would a feature film. There is no guarantee that the pilot will be picked up, so they often will have projects already lined up after the pilot and may not be available if it goes to series.  However, even if not available to do the series, their work has defined and established the characters. If the studio and network are happy with the look, then it will be the responsibility of the designer of the series to keep the continuity of the pilot while continuing with the development and evolution of the characters. Deservedly for all involved in creating the pilot of The Blacklist, it was picked up for 13 episodes after the pilot tested extremely well. When we got word that the pilot was picked up, Amy Westcott reached out to the producers and recommended that they hire me to design the series.
Because I had been on the pilot, going onto the series felt like picking up where we had left off. I was able to secure much of the same crew that we had on the pilot as well, so it was a very easy transition for the actors, producers and crew."
The Blacklist, Costume Designer Christine Bean
T/S: How much of the look of the costumes for the show were established by Westcott on the Pilot and at what point did the designs feel like yours?
CB: "Going into the series with a full cast and already having had the experience of working closely with them, I was really fortunate to be able to hit the ground running. One of the things from the pilot that I knew would be a priority was having Reddington's wardrobe custom made. The pilot was so fast that there wasn't enough turnaround time. The moment I got the call that I was hired, I starting choosing fabrics for shirts and suits. So while the 2nd episode opens with Reddington wearing his pilot wardrobe, by the first commercial he changes into a custom 3-piece suit, handmade shirt and a custom hat. That, with the addition of 4 series-regular cast members that had not been established in the pilot, it felt very much mine."
T/S: Can you tell us a little bit about the difference between filming in NYC versus LA
CB: "While the show is set to take place in Washington D.C., we film in NYC. Having worked in LA the majority of my career, I am still constantly adjusting to the logistical differences of the two. One thing is I miss the tremendous resources available in LA as far as costume rentals. Being able to access MPCC, Western, CRC and Sony is such a huge time and money saver. We have done episodes to have taken place in Montreal, Shanghai, Berlin, Texas, Miami, etc. so we are constantly looking for specific uniforms as well as general stock to really sell the location. It takes a lot more legwork in NYC to make this happen."
T/S: The character of Reddington, an incredibly wealthy criminal, is always so well dressed with coordinating overcoats, hats and accessories. Can you speak a little to the inspiration and references for his character, sourcing the appropriate pieces, and working with James Spader to develop this character
CB: "It was important for both James and I to have Reddington be incredibly well dressed but still practical. Even though his wardrobe is extremely high-end, there is a utility-based concept behind each piece. His shoes are Italian with a beautiful pebble grain leather, but they also have a practical rubber sole. His Loro Piana outerwear, while from the finest cashmere and wool, is also wind and water repellent, with many pockets and a removable hood. He has suiting appropriate for various climates depending on where the episode may take him. We make sure that there is an underlying color palate so that pieces can be mixed and matched and repeated.  I am also careful to choose colors that make Reddington stand out from the FBI agents. He should not look like one of them. Often times pieces of his wardrobe are integrated into the storyline, such as in "Wujing" you see Red buying fedoras that he will later wear, and then in "Frederick Barnes" you see him being measured at a tailor shop, which is the real tailor used to custom make all of Reddington suits.
Reddington Costume Research Board, Including Fabric Swatches, The Blacklist, Costume Designer Christine Bean
Finished look from research board above, The Blacklist, Costume Designer Christine Bean
When starting the design process of a Reddington suit, I usually start at Beckenstein's Fabrics in New York's garment district. I also source fabric from the Holland & Sherry showroom. Once I decide on a fabric I pick the specifications for the suit, for example if the lapel should be peak or notch, style of pockets, vest and pant details. We work with Martin Greenfield Tailor in Brooklyn to make all of Reddington's suits, vests and pants. The shoes, ties and socks we purchase from Paul Stuart, Zegna and Saks. The outerwear has been from the Loro Piana boutique in Manhattan, and the hats from JJ Hat Center or if a custom hat is required we use Worth & Worth."
The Blacklist, Costume Designer Christine Bean
T/S: Elizabeth Keen, the rookie Special Agent thrust into the center of these high profile cases exhibits such a wonderful range of strength and vulnerability. Can you speak a little to the inspiration and reference for her character, visually capturing her duality, sourcing garments, and working with Megan Boone to develop this character?
CB: "In creating Elizabeth Keen, we wanted to highlight the fact that she is balancing two lives, one is an ever increasingly high profile and dangerous career, and the other is being a wife and possibly a mother. While at work, her wardrobe represents the armor that Liz puts on to become Special Agent Keen- dark tailored suits, jewel tone blouses, and very little jewelry aside from her wedding rings. Keen is seeking respect from her fellow agents as well as Reddington. Additionally she needs to be able to run and wear a gun holster, so a tailored pant suit with low-heeled boots are her go-to uniform. At home and with Tom is where you see the side of Liz that is softer and more feminine. She is able to let her guard down and be more romantic, wear florals, lace, pastels, things that she couldn't wear to the FBI and be taken seriously.
Elizabeth Keen Costume Research Board (left side- home, right side – work) The Blacklist, Costume Designer Christine Bean
The Blacklist, Costume Designer Christine Bean
For sourcing Liz wardrobe, her FBI looks are often Theory, Tahari, Reiss and Helmut Lang. Her casual and home looks come from Anthropologie, Zara, Rag & Bone, Rebecca Taylor and local/specialty shops such as Norbu and Bird in Williamsburg for interesting jewelry and accessories."
The Blacklist, Costume Designer Christine Bean
T/S: You dress such a huge range of extras and guest stars including everything from crowd scenes in both domestic and international locations, visiting dignitaries and international terrorists. How do you approach such variety in each episode, shifting gears, finding authentic global research, sourcing appropriate garments, and executing this large task?
CB: "Luckily I have an amazing team! An average week we will be filming one episode, prepping another, there will be a still photo shoot for crime scene photos, countless fittings, insert unit and often a tandem crew to overlap an episode, not to mention the concept, production and costume meetings that take place. Since I cannot be in all of these places at once, there would be no way to accomplish it all without a top-notch crew.  It requires that I put a lot of trust in each person in the department. For example, the last episode had a scene taking place in Germany, and it was decided that we needed 10 costumed beer maidens to work the next morning. I gave my assistants research and within an hour they had found a woman in Manhattan who came to our office with a suitcase full of authentic Bavarian dirndls.
The Blacklist, Costume Designer Christine Bean
Another time we were doing an episode taking place in Shanghai and I noticed that many of the female street vendors in Shanghai wore arm covers to protect their skin from the sun. I was unable to find them on-line or in stores, so overhearing the dilemma our tailor cut up some old hazmat suits and re-purposed them as disposable sleeves for the background.  It is small details like these that add to the production value of the show. Each person in my department is creative and resourceful, which keeps us one step ahead of the demands of The Blacklist."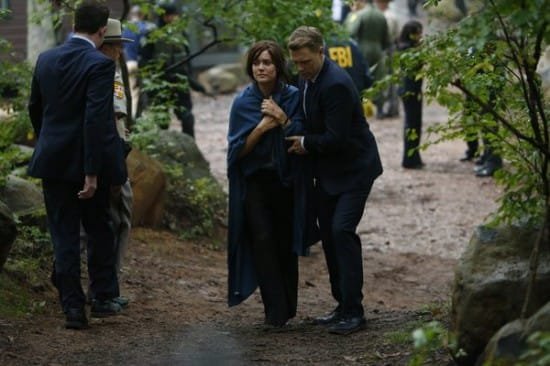 The Blacklist, Costume Designer Christine Bean
A special thanks to Christine for taking the time to talk with us about costuming The Blacklist. Check out The Blacklist, and Christine's incredible work Mondays on NBC 10/9c.