In the latest reboot of the Superman franchise, Man of Steel, we see the biggest change to the Superman suit as a costume since its first inception at the New York World's Fair in 1940. Director Zack Snyder strove to create a Superman that was both relatable and realistic in a modern world, "it's a fine line of re-inventing him, but still seeing him in there." Snyder called on long time collaborator, costume designer Michael Wilkinson to help him create this world and redefine the Superman suit. Because of a prior commitment, Wilkinson was not able to join the team in the earliest stages of development. Legendary costume designer James Acheson was tapped to help fill the gap. It seems clear, however, through behind the scenes footage and interviews that Wilkinson was heavily involved in the development of the suit and that the film's costumes are predominately his design.
Superman suit, Man of Steel, costume designer Michael Wilkinson.
Looking back at the costume designed by Louise Mingenbach for Superman Returns, we see that she was on to something with toning down the primary colors and adding texture to the suit, but Man of Steel takes those elements and runs with them. Gone are the backstories of Clark/Kal-El or his Earthly mother churning out a super suit on a sewing machine from their Kansas farmhouse. Instead, Clark finds the suit, a garment from his home planet, on an abandoned alien craft. The suit is a form of protective gear inspired by medieval chain mail, reimagined for a technologically advanced alien race. Synder and Wilkinson introduce us to these bodysuits early on, worn by Jor-El, Zod, and members of the Council on Krypton. In this world the suits are present in a variety of colors, from purple hues for the council, earthy greens for Kal-El's mother, and black and silver for Zod's army. Also present on each suit are a range of chest emblems or "glyphs" that Wilkinson refers to as a form of family crest. Once we are finally introduced to Superman's suit it is both familiar from our glimpses of Krypton, yet very foreign as it moves through modern American scenes.
Superman suit, Man of Steel, costume designer Michael Wilkinson.
(Photo credit: http://hollywoodmoviecostumesandprops.blogspot.com)
No change to the Superman suit has created more buzz than the removal of the outer red briefs. In the original Superman comics, these trunks were a holdover of strong men costumes seen in Victorian era circuses, casting Superman as a symbol of strength and masculinity. We are widely disconnected from this association in the 21st Century, making it a hard element to justify keeping for the film's creative team. In its stead, the suit is now equipped with a molded protective cup that certainly seems to present the Man of Steel as more prepared for battle than a simple pair of spandex briefs. While the team has not stated it as an inspiration, it is hard not to see some correlation between the suit and modern football uniforms or even the high-tech long-line swimsuits worn at the most recent Olympic games. It is certainly an interesting cultural connection to see professional athletes as the "strong men" of our time.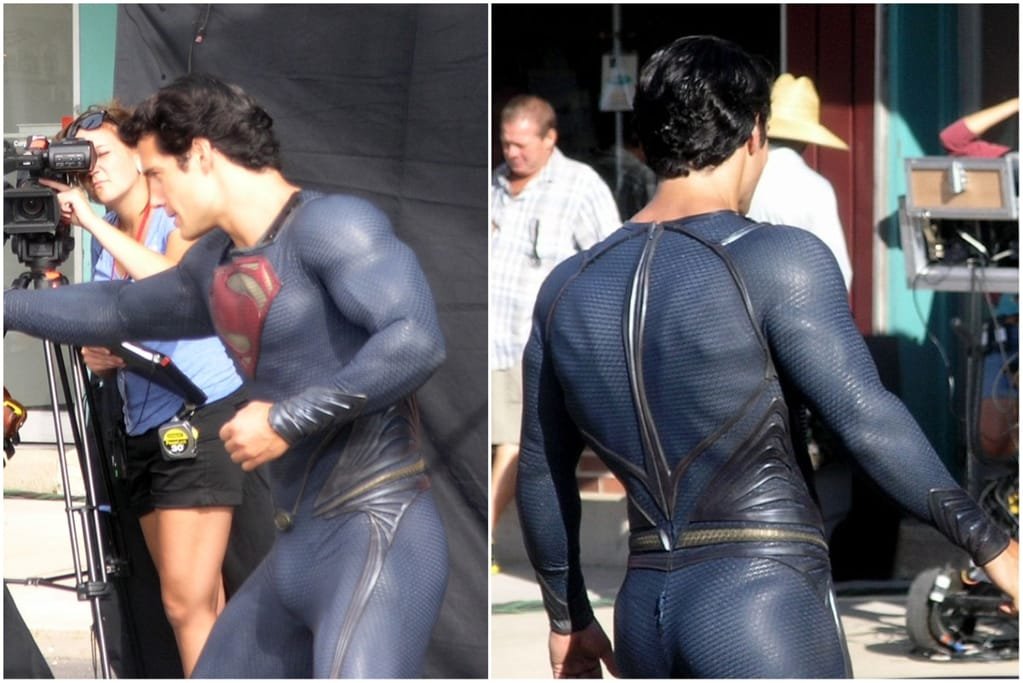 Superman suit, Man of Steel, costume designer Michael Wilkinson.
Additional design elements of the traditional suit were modified to help cohesively support the removal of the red trunks. To avoid appearing overly simplistic, we see the addition of a raised graphic motif at the waist and hips that shape the muscularity of Superman, add visual interest, and lend well to the sense of the suit as armor. Complementing this idea of the suit as a battle-ready garment is the high-tech chain mail texture that was added, elevating the suit from spandex unitard to serious protective gear. The suit combines both a greater depth in the pattern itself with reflective surfaces and a desaturated color palette that help it to read as both sturdy and other-worldly in a way that previous versions have not.
In the newly designed "S" crest we see both the refined textures and color palette of this world in the metallic gold, deep red, and raised surface of the "glyph". Also addressed is the implausible backstory that Kal-El came to this planet with a giant "S" for Superman. In this incarnation, it is no longer an "S" but a Krypton symbol meaning hope.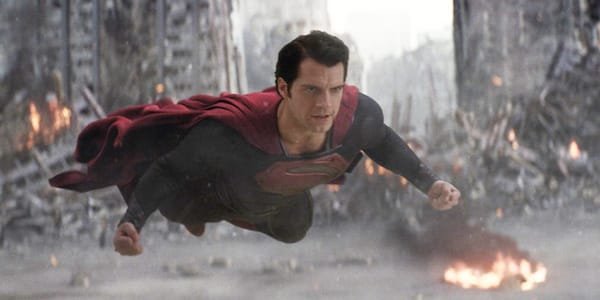 Superman suit, Man of Steel, costume designer Michael Wilkinson.
The changes made to Superman's cape nicely complement the newly imagined suit with the desaturation of the red and the use of a heavy fabric that reads as having incredible depth as well as great fluidity. A cape of any kind always adds a level of challenge in filming, and the team addressed it by creating multiple capes in a variety of lengths and fullness that could be used for different scenes. Some scenes were shot with the cape fully removed, allowing for it to be added digitally in post-production to create a more stylized sense of movement in-flight.
And in an incredible display of the powerful influence of costume design, we have seen the rebranding of Superman toys, t-shirts, and other licensed material across the board based on the newly designed look of the Man of Steel Superman suit.