The superhero genre has evolved in the past decade, becoming a mainstay of the year-round film-going experience. Marvel changed the landscape, busting free from the summer season with movies that stand alone, yet string together characters from an ever-expanding Universe. While the stars of these films stick around through each new incarnation, often the designers and directors come in for just a single film.
Judianna Makovsky is an accomplished costume designer, whose credits include The Hunger Games, Harry Potter and the Sorceror's Stone, and Pleasantville. I recently had the opportunity to ask her about navigating those very waters for Captain America: The Winter Soldier.
 Captain America: The Winter Soldier. Costume Designer Judianna Makovsky.
Tyranny of Style: How do you begin your process on a film that includes existing characters and story lines that have a long heritage in comic books, as well as recent incarnations in both the Captain America and Avengers films?
Judianna Makovsky: I pretty much start all films the same way.  I start with the script and I try to understand the characters as well as the world in which they will exist.  I do this with meetings with the directors, the production designer and in this instance Marvel producers were included as well. Although some of the particular characters have been seen before, each film is its own entity with its own specific needs and look.  I did research into the back-stories and the previous films so I had a basis from which to move forward. My first day on the job, I was handed a very large stack of comics to read so I would be familiar with the foundation.
 Captain America: The Winter Soldier. Costume Designer Judianna Makovsky.
T/S: Can you discuss the rubber meets the road aspect of creating a film within the Marvel universe?
JM: For this particular film, the Russos (directors Anthony and Joe) wanted to have a more realistic look than some of the previous films.  Their concept was the characters and S.H.I.E.L.D. exist in Washington D.C. today and would not look out of place walking on that city's streets. Marvel does keep some clothing from their films and can be used if appropriate, but in this case I only re-used some air traffic controllers from the Avengers as well as some stock suits for extras in S.H.I.E.L.D.  We thought we would be re-using the original WWII suit but in the end it was subtlety redesigned for not only aesthetic reasons, but also for movement. I designed all new S.H.I.E.L.D. and Insight uniforms and had them manufactured. Most people won't notice and assume we bought them because they look so traditional.  But we wanted specific colors and shapes so we created our own organization based on existing military and police, as well as all new Insight and S.H.I.E.L.D. Quinjet pilots.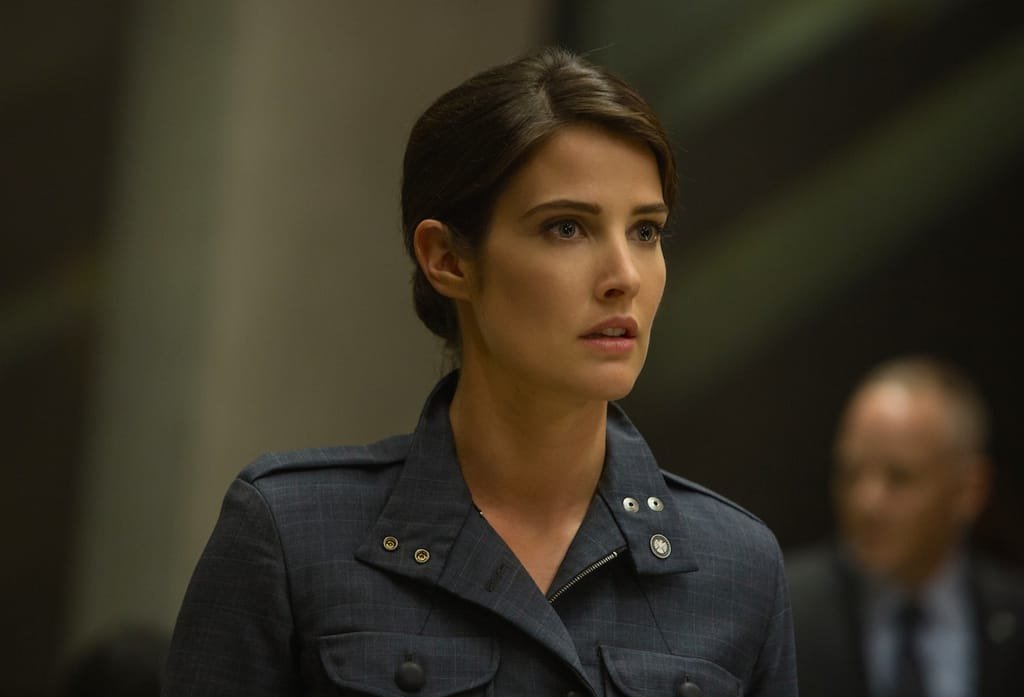 Captain America: The Winter Soldier. Costume Designer Judianna Makovsky.
All the principal actors had new clothes created for them as well. Marvel has an existing costume shop set up with all the tools needed to manufacture this type of film.  Each designer can bring in a crew they are comfortable working with, however, many of these do spill over into each Marvel film since the talent pool for this kind of manufacturing is limited.  They are such specific talents.  I did have some crew that had experience on these films; particularly Dale Wibben who made the Captain America hero suits as well as Black Widow and the Winter Soldier. He has worked on many of the earlier Marvel films and he has worked with me on non-Marvel films.  He is a creative genius that can bring these costumes to life.  I also had a whole team of specialty costume makers who are experienced with this genre.  They are exceptional talents.
Captain America: The Winter Soldier. Costume Designer Judianna Makovsky.
I worked very closely with the actors to improve movement and mobility, as well as learn from their past experiences.  I tried to learn what was comfortable for them and what wasn't, what impeded their movement, etc.  Each film learns from the past ones.  The extremely fast fighting style in Winter Soldier is new for these characters and created it's own set of problems for us to solve.
Captain America: The Winter Soldier. Costume Designer Judianna Makovsky.
T/S: Each new incarnation of the Captain America costume is at the very forefront of the film, marketing, and character. There have been reports of costumes for various superhero and sci-fi films often well into design or development with the director, producers, production designer, and/or concept artists before a costume designer is brought on. Can you speak to your contribution in the process on this film?
JM: When I started the film, there were some existing concept drawings for the main hero suits from Ryan Meinerding.  Kevin Feige was also very involved. He knows the Marvel Universe so well and has a plan for where the films might go in the future.  Since these characters go from film to film it is fair and very helpful to have their input. It's a continuing world that goes from film to film and when you work with them you agree to stay within that world, as is the production designer.   The directors and production designer often have worked out some concepts to build their world before the costume designer is on board. Since the script is often based on stories in the comics, certain costumes will be in play.  But a drawing and a concept are just that. Having to actualize them into functional clothing that can work within the film is where things often start to change within the design.
Captain America: The Winter Soldier. Concept Art by Ryan Meinerding.
I worked very closely with Ryan to make sure the essence of what the Russos and Marvel wanted did not shift.  I was then asked to design characters that were not in specific "super-hero" suits, such as all contemporary clothing as well as Batroc, Nick Fury, Maria Hill, etc.  One of my favorite garments to design was Steve's motorcycle jacket.  We wanted something that looked classic but modern at the same time and would take him out of the comfort zone of his WWII clothes.  I also designed all of the new S.H.I.E.L.D. and Insight uniforms. I had my own team of costume illustrators to work with.
Captain America: The Winter Soldier. Costume Designer Judianna Makovsky.
T/S: The superhero and sci-fi genres have been creating and redefining costume technology by leaps and bounds in the last few years. Can you speak to any use of recent or expanding technology and what impact it had on either the process or the finished product?
JM: The most difficult thing I had to achieve in this film was creating the fabric for the Captain America Stealth Suit.  The Russos were very specific that they wanted a suit that was made of textured, woven, hard fabric like a Kevlar and not a printed stretch suit like you see over and over again in these films. But in reality it needed to be made of a stretch fabric that would allow movement and comfort, as well as the ability to be constructed into a more realistic military type trouser and protective top. I went through many incarnations of printed textures on stretch which then posed a whole new set of challenges and problems.  The HD cameras made raised textures strobe or moiré.  So finding the right one became a trial.  Then the printing ink would shine like plastic, which I disliked.  It took four months of research and development to create a texture that seems so simple and was yet, so complicated.
Stealth Suit fabric detail. Captain America: The Winter Soldier. Costume Designer Judianna Makovsky.
Thank you very much, Judianna, for sharing your experience and expertise with us.